ZenBook Pro Duo (UX581) is the best multitasking laptop for productivity and creatives who are searching for ways to increase their efficiency. For work to be effective and the work experience better, creatives need more than 1 screen to work with. ASUS has created a machine that allows you to have multiple screens in 1 device without the frustration of minimizing and switching between multiple windows and owning multiple devices to display on. This device has a range of interesting features. However, these features are quite new, and you might take a little time to get used to them. The price range is between 800k to 1M, not the cheapest but gives you every value for your money.
Do you feel your productivity is limited by minimizing and restoring multiple windows?
When you work with creative software and work tools, you need multiple screens to work effectively and harness your full creative power. It is bliss to see the changes you make get effected in real-time without going through the stress of hopping through a bunch of software windows to see it. Having to minimize and restore windows as you work reduces your productivity and has the potential to cause glitches on your system.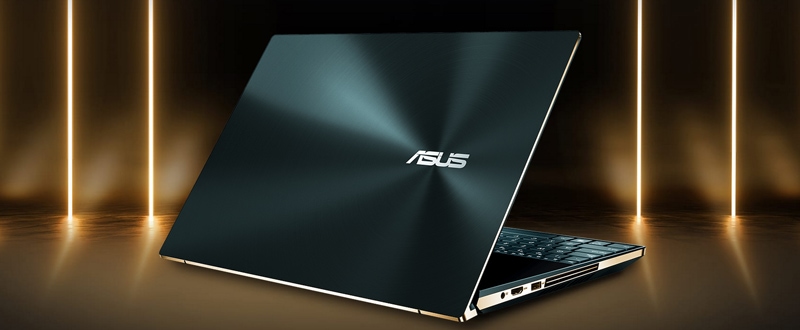 How the ZenBook Pro Duo (UX581) will help you
If you're a graphics designer, programmer, product manager, animator, video editor, gamer, work in the creative space, or a daring professional, this laptop can advance your creativity and productivity to the next level. It is designed to give you the ultimate edge in workflow efficiency. A series of handy built-in apps help boost your productivity.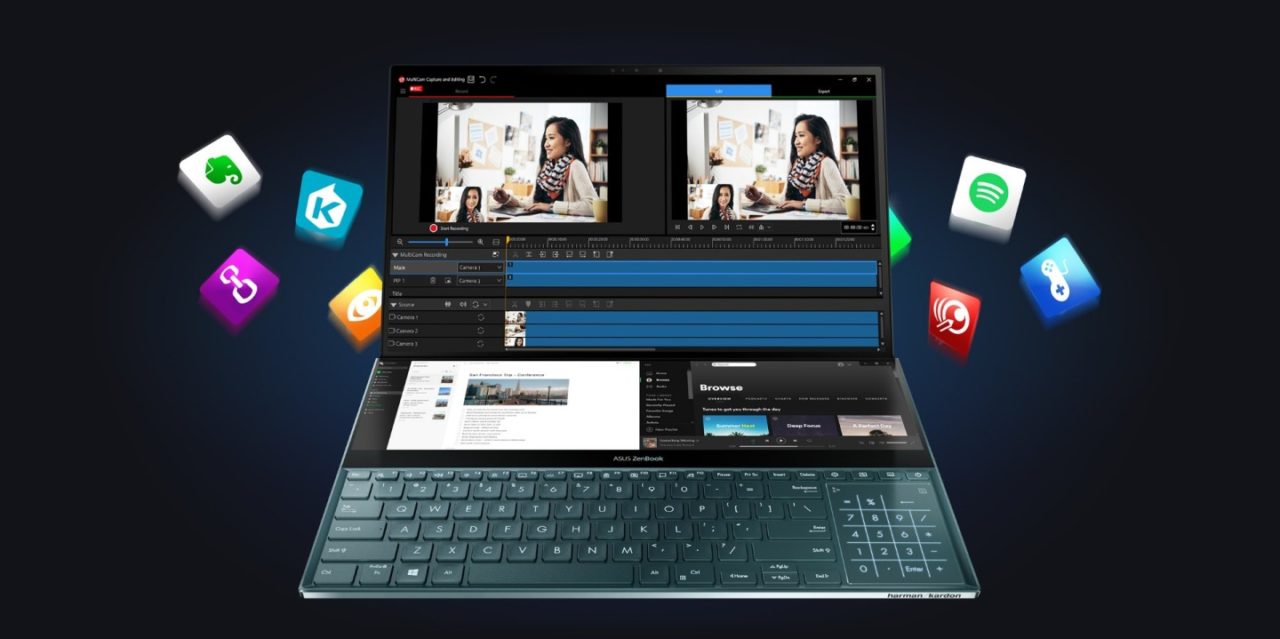 The Two screens with ScreenPad Plus – ASUS ScreenPad™ is where the magic happen. It's a full-width 4K secondary touchscreen that works seamlessly with the main 15.6-inch 4K UHD OLED HDR touchscreen that allows you to seamlessly use 2 screens. There are also useful quick controls such as App Switcher, ViewvMax which combines the app window in both the main display and ScreenPad Plus into one large screen, and Task Swap that switches the position of the open apps on the main display and ScreenPad Plus. Task Group lets you lock into work mode by opening multiple tasks with a single touch. Now, you can drag any Windows app or in-app toolbar onto ScreenPad Plus to give you more room to work on the main display.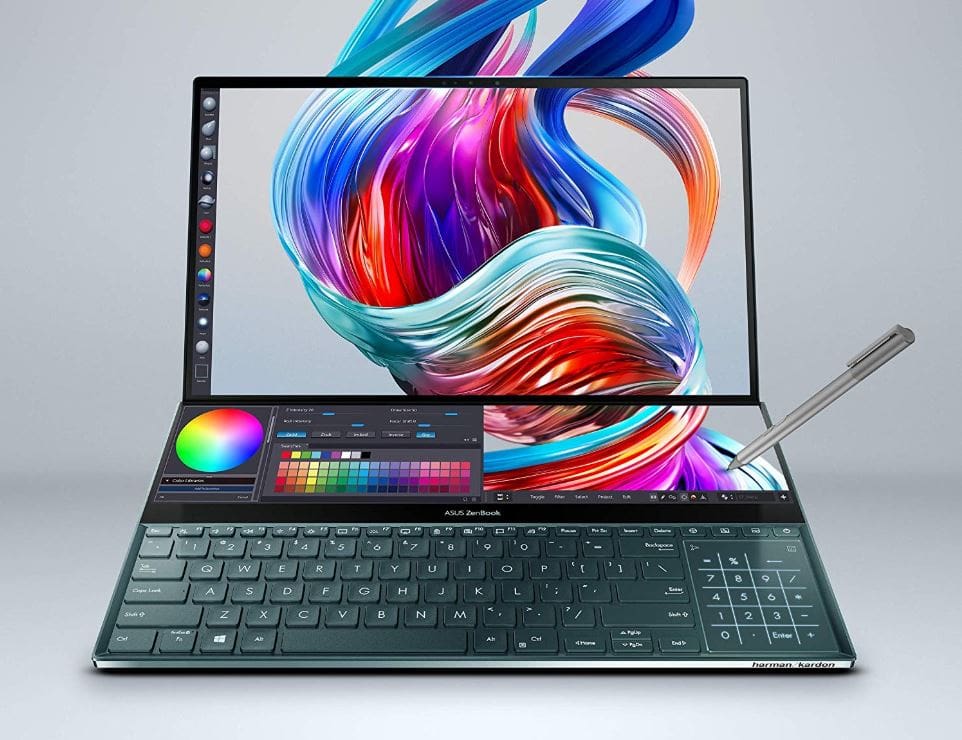 Gamers can place extra game information, chat boxes, and live-streaming apps on ScreenPad Plus for the enhanced gaming experience.
For high-performance software that requires more processing power the Ultrapowerful Performance of the ZenBook Pro Duo is powered by up to a 9th Generation Intel® Core™ i9 eight-core processor, the latest gaming-grade NVIDIA® GeForce RTX™ 2060 graphics, and blisteringly fast storage. This ultrapowerful combination ensures that ZenBook Pro Duo takes professional-quality tasks in its stride, such as multi-layer photo or video editing, 3D graphics rendering, or even game live-streaming.
ZenBook Pro Duo is built for creative professionals, so there's no compromise on connectivity. A full set of high-performance I/O ports — including the latest Thunderbolt™ 3 USB-C™ port — give you dongle-free connectivity whatever you're doing, wherever you are. The latest Intel Wi-Fi 6 with Gig+ (802.11ax) takes wireless speeds to the next level, for supersmooth connections to the world.
Take notes, sketch out your ideas, or do precision graphical editing in the most intuitive way ever with the stylus which is supported by both screens on the 4K UHD NanoEdge OLED HDR display with a cinema-grade 100% DCI-P3 color gamut and 100,000:1 contrast ratio making it a superb all-rounder for professional work and entertainment.
Graphic Designers can use an active stylus on ScreenPad Plus to assist their content creation. It gives you a stable platform for writing or drawing.
An LED-illuminated numeric keypad is integrated into the touchpad. The precision touchpad (PTP) technology supports up to four-finger smart gestures for multifunction and comfortable typing.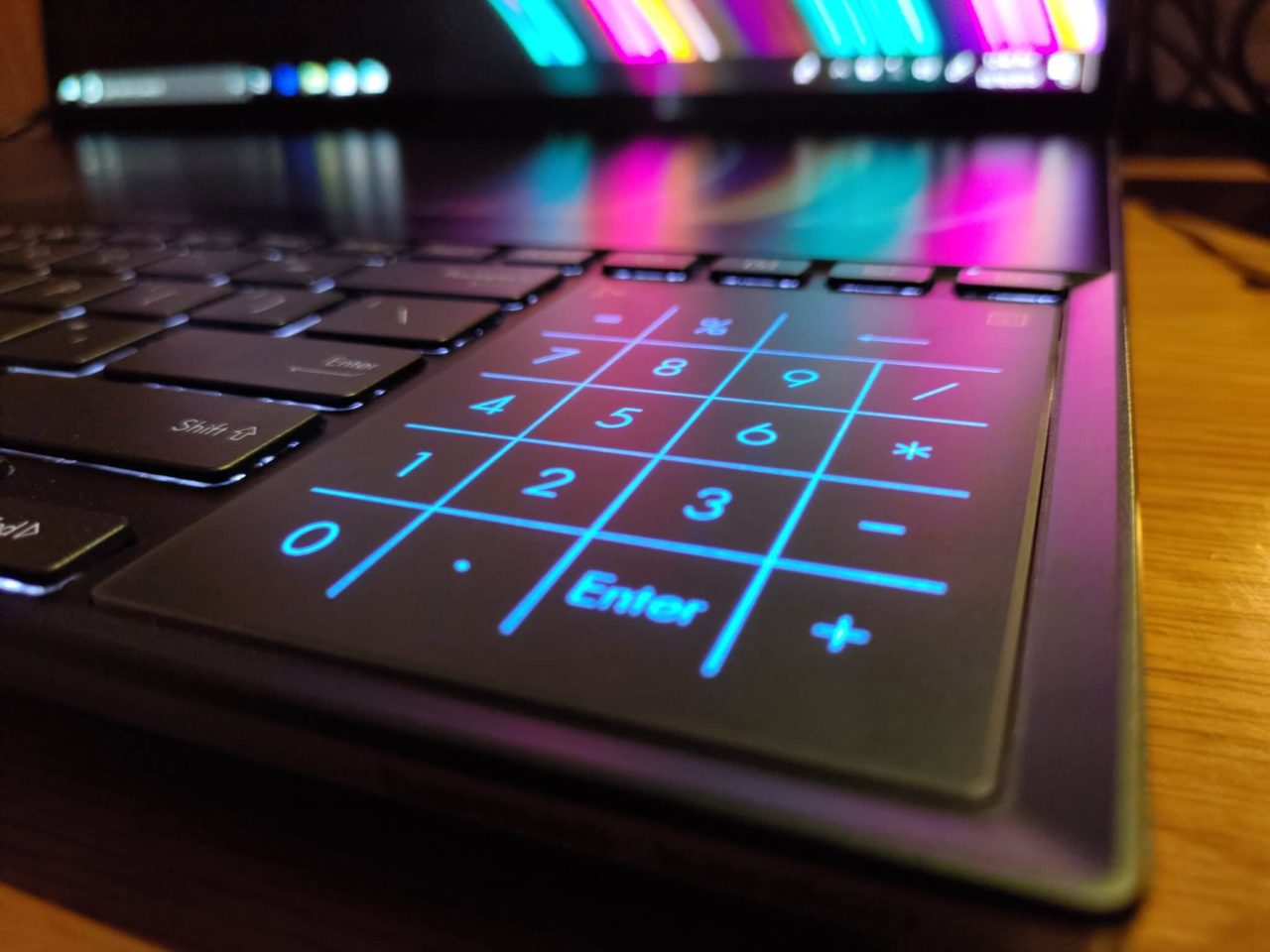 For maximum audio performance, the ZenBook Pro Duo is equipped with the ASUS SonicMaster stereo audio system with surround-sound; smart amplifier Its array microphone supports Cortana and Alexa voice-recognition.
Video Editors can put color-grading tools, material previews or editing timelines on one display and enjoy the best sound and color for their videos.
In Conclusion, the ZenBook Pro Duo was specially designed for creatives. It is a worthy investment for any creative professional to harness their full creative power and efficiency in one device, on the go. However, the ZenBook Pro Duo might use up more battery power because it has more screens to power. That's something you should keep in mind. But the multiple screens is something to die for right? What do you think or Let's hear your thoughts?
For more on how to maximize the ZenBook Pro Duo, please visit: https://www.ASUS.com/wa/Laptops/ZenBook-Pro-Duo-UX581GV/