There's no doubt that you've tried at one time or the other to get yourself a quality and affordable power bank for your phone or laptop. But the effort has been futile due to the proliferation of fake and highly-priced power banks in the Nigerian market. I have gone ahead to do extensive research on the 10 BEST POWER BANKS FOR PHONES AND LAPTOPS and I have come out with very valid results.
These 10 top power banks are compatible with iPhone, Samsung Galaxy, and other Android phones like HTC, Tecno, Infinix, etc. They can also charge MP3 and MP4 players and cameras among other USB enabled electronics. Some of them can even charge the MacBook and iPad. Each of these matches our power bank buying guide.
To ensure that these power banks are really good, I made my selection from already established brands with proven capabilities and I sought the opinions of existing users of these brands to get their honest reviews of the products.
With all these in place, I bring you a list of the 10 best power banks in the Nigerian market. All the devices on this list are fantastic but we list them in descending order i.e. from the best to the least.
Omni 20 USB-C Portable Power Bank
The Omni 20 USB-C Portable Power Bank is the king of power bank solutions. It comes with four ports which can be used to charge two laptops and two smart devices simultaneously. There are two USB ports and two USC ports, the latter offering an individual max output of 60W and a total output of 100W. To add to, you can recharge this power bank while your devices are still charging.it comes at a more expensive rate but it does justification to the extra cash spared in buying it via the much more amount of work it gets done.
AUKEY Power Bank 20,000mAh
This is one device that is unique in its form and qualities. It comes with dual USB ports that can be used to charge two devices at the same time. The battery capacity is high and cleverly tuned to support healthy battery life. But the most interesting thing about this device is the 24 MONTHS WARRANTY that comes with it which is more generous than other devices on this list. If you're looking at using your device for a long while, then this power bank should be a good choice for you.
RAVPower 20,000mAh power bank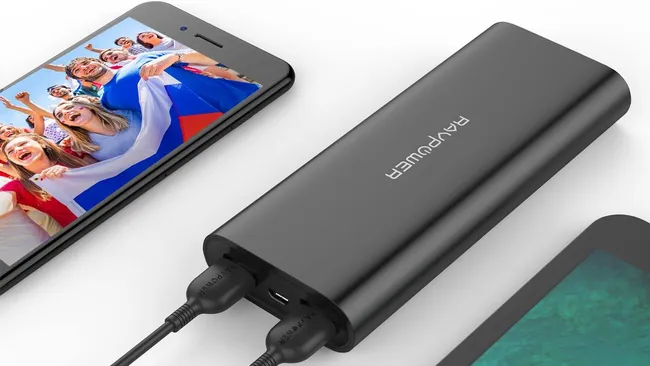 The unique thing about his power bank is that it has a high battery capacity of 20,000mAh, two ports for charging multiple devices, lightweight, and comes at a very affordable price. So, if you're looking for that power bank that has the aforementioned qualities without costing so much, then I bet this power bank is a good choice.
MAXOAK Power Bank 50,000mAh
This is one power bank you can use to charge many devices. It comes with a whopping 6 ports and 50,000 mAh; I'm sure you want it already… This power bank is compatible with many laptop brands such as Fujitsu, Sony, Acer, Asus, IBM, Dell, HP, NEC, Samsung, and Lenovo but can't charge a MacBook.
Mophie Power station Plus XL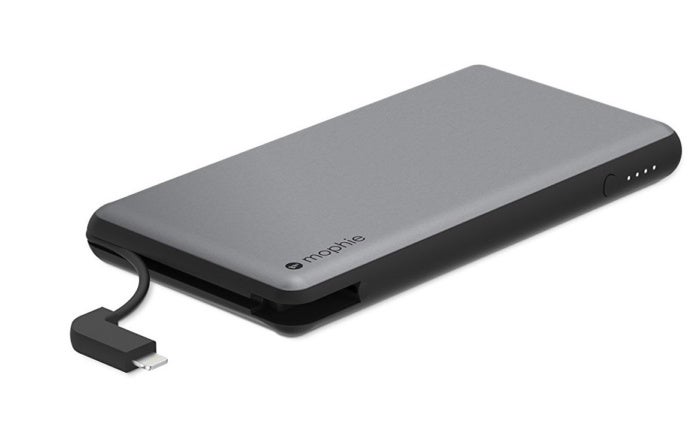 This device comes with a 12,000mAh battery capacity which gives four additional charges on your smartphone, one extra charge on your tablet while a second USB port lets you charge two devices at the same time. Yes, this is one of the expensive power banks on our list but if you find your device dying often and you're impatient about getting it powered up, then this power bank is a good choice for you.
RAVPower Universal Power Bank Travel Charger
Unarguably, Rav power is a brand that has come to stay. Their Ravpower universal power bank travel charger is the ideal choice if you have some extra money to spare. With both a Type-C (5V/3A) port and iSmart USB (5V/2.4A) port, you can charge your laptop and phones at the same time. It comes with plenty of battery capacity (20,100mAh) which gives it the ability to charge your device over and over again.
Anker Power Core 20100 power bank
This great device ticks all your checklists when choosing a quality, lasting, affordable, and portable power bank. It comes with two 2.4 Amp USB ports so you can charge two devices at once. It has a huge (20,100mAh) capacity, which means you can charge everything a few times during one trip; the iPhone 8, iPhone 7, and iPhone 6 around six times, the Samsung Galaxy S9, S8, S7, S6 four times. It charges faster when charging devices that use Power IQ or Voltage Boost. As long as portability is concerned, this device is a go-for because it has the same weight as an average phone. You can't but do yourself the favor of having this fantastic device in your collection.
iMuto power bank 20,000mAh
This is one of the best charges in the market as it comes with a whopping 20,000mAh which can charge your phone from zero to 100% without needing to be plugged in. Asides phones, it can charge your Laptop and MacBook very effectively. The high efficiency and low cost of this power bank make it a very good choice for you to make when you're about to make a power bank purchase choice.
Anker Power Core II Power bank 10,000mAh
The device brings to bear its uniqueness through its lightweight which makes it very portable. It offers three iPhone 7 charges, 2ipad mini charges, and 2 Galaxy S7 charges. Though it comes with only one port which reduces its usefulness but boasts of its speedy charging and handiness.
RAVPower Luster portable charger
The RAV Power Luster portable charger comes in handy any day, anytime as it offers a decent 6,700mAh which is enough to power up your smartphone from zero to 100% at least once or twice. It is fairly light (all most the same weight as your average mobile phone) and will fit in pockets very nicely. It is a great choice for a time out when you won't be using your device so intensively. It is small, portable, colorful, easy to carry along, and just ready for the go!